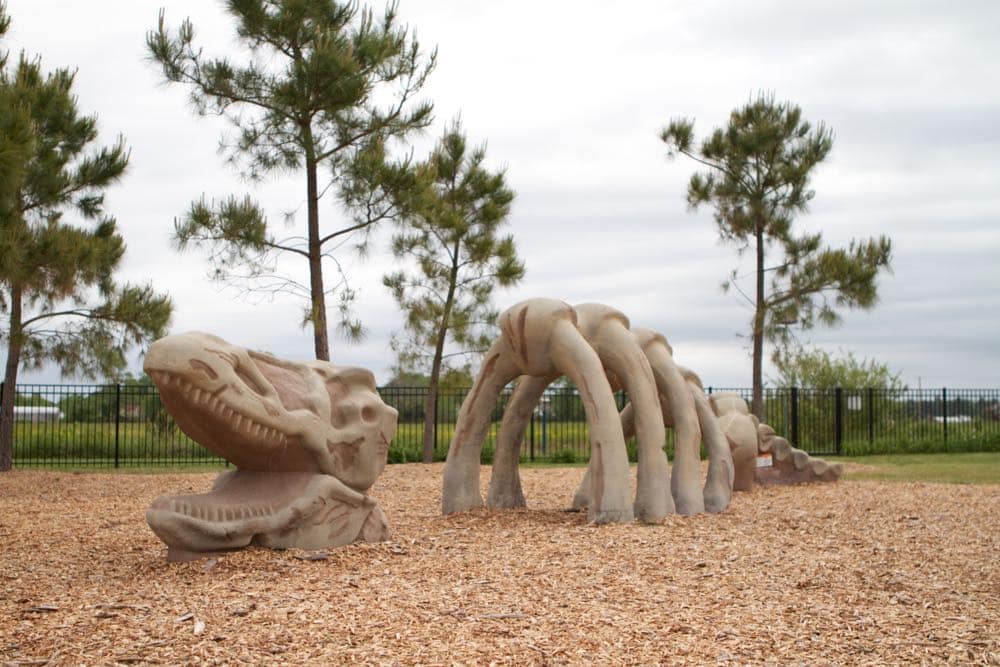 Children learn through play. As such, the importance of the role of play in the life of a child is paramount. Even more so is the integral role that outdoor play in a natural environment plays in the life of a developing child.
Chesapeake Montessori School values the outdoor learning environment and is taking steps to improve their outdoor play space. The goal of the update to the outdoor space is to keep a natural appearance while developing specific areas of play and imagination, said Shanna Honan, executive director at Chesapeake Montessori.
Natural playgrounds allow for open-ended, multi-age, sensorial play. Children are able to explore and experience nature by watching birds and bugs in their natural habitat, as well as age both gross and fine motor skills, as well as increase cognitive skills, attention span, and opportunities to take part in planting, nurturing and harvesting living things.
Natural playgrounds also offer a setting that encourages children to utilize their imagination. When children engage in play in a natural playground setting they are provided the opportunity to engage in collaborative play. Providing children the opportunity to play outdoors gives them the ability to engage their whole body in their play as they explore. Additionally, they do not have limitations on noise or activity when playing outdoors.
The North Carolina Outdoor Learning Environment Alliance (NCOLEA) reports that a study of 41 programs showed that those with higher quality outdoor environments had children that showed a tendency to display more constructive play as opposed to children in lower quality settings. The study also found a correlation between the quality of the outdoor learning environment and behavior stating that as the quality of the outdoor programs decrease, the frequency of negative behaviors increase. Natural materials and other landscape elements also aid in changing children's spatial cognitive awareness, according to NCOLEA.
In 2015, each of the Chesapeake Montessori campuses will receive a location-specific update to its outdoor play space to meet the needs of the location. At Great Bridge, the campus has already added a sandbox and we're making some landscape improvements. For the Grassfield Elementary and Children's House area, the playground fence will be expanded to include the Garden Club shed and the existing playground will be developed into multiple exploration areas aimed at specific themes of childhood development.
Additionally, a nature exploration area consisting of a raised platform for bird watching will be located near the back fence overlooking the waterway where birds gather. To encourage upper body strength building and gross motor development, a monkey bar structure will be erected and a balance beam log and wooden stumps will be put into place to promote balance and coordination skills. To promote construction, a stacking and building area with sanded wooden blocks will be put into place along with a large sand pit for digging and exploration. Outdoor instruments will be available along with a small stage to encourage music exploration, creativity, and self-expression.
Chesapeake Montessori outdoor play spaces currently feature gardens, a dinosaur fossil climbing structure, and a hill with a slide built into it. "Chesapeake Montessori is focusing on expanding its natural play space this year and we'll need help from parents and the community to make it happen," Honan said.
If you're interested in participating in our playground updates in January, please get in touch with Shanna to find out what we still need help with! We hope to make these outdoor additions with fundraising efforts and community participation. We're in need of a parent volunteer put together a work weekend for parents – and for parents to show up and help us do the work!